ESL/Literacy & Citizenship Help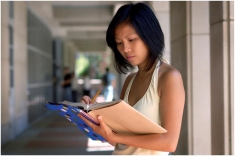 If you're trying to learn English or improve your reading skills, Bloomingdale Public Library is a great place to start. We have books, CDs, online databases, and DVDs that will help you improve your reading and writing skills.
Our reference staff can help with your questions! You can:
Stop by the Reference Desk
Call us at (630) 924-2730
Email us at bdref@mybpl.org
Text mybpl to 66746
Chat with us by clicking the Ask a Librarian box to the left
---
Library Databases
Pronunciator
English language learners can use Pronunciator with 50 non-English languages. Also includes downloadable phrasebooks for travel. Download the app for mobile use.
ProCitizen
Prepare for the U.S. Citizenship Test with over 100 videos, drills, and quizzes. Covers the civics, reading, and writing portions of the exam.
Learning Express Library
Learning Express Library includes several sections that can help you improve your reading, writing, and computer skills. There is also a U.S. Citizenship Preparation test, and much more!
Gale Courses
Gale's Online Learning Courses offers a variety of ESL courses that cover writing, reading, grammar, and more.
TumbleBookCloud
An online collection of ebooks and read-along chapter books, YA/teen novels, classic literature, graphic novels, educational videos, and audio books. Books are always available with unlimited access from any device with an internet connection. Features adjustable online text and complete audio narration. Read-alongs are an excellent tool for ESL students.
---
ESL/Literacy Groups and Tutors
College of DuPage Adult Basic Education Office
The Adult Basic Education (ABE/HSE/ELA) office helps adults learn English and civics, improve literacy, reading, writing, and math skills, and prepare to pass high school equivalency exams.
Literacy DuPage
Established in 1972, Literacy DuPage, formerly known as Literacy Volunteers of DuPage, is a nonprofit, community-based organization. Their mission is to help adult learners achieve sufficient skills in English literacy so they may function independently in our communities. The organization serves over 30 communities in DuPage County. Literacy DuPage trains volunteer tutors to provide customized, learner-centered English language instruction. Tutoring occurs in one-on-one or small group settings at a mutually convenient time and location for both tutors and students.
People's Resource Center
People's Resource Center offers people a chance to learn English in a small group setting or one-on-one with a volunteer tutor, at no cost. Free ESL classes are only one of the complimentary services the Literacy Program provides. Clients also have the choice of learning basic academic skills, having GED or citizenship test preparation, and more. For more information call 630.682.5402 ext. 337.
School & Tutors on Wheels (STOW)
School and Tutors on Wheels (STOW) is a literacy program sponsored by the Congregation of St. Joseph, that offers free one-on-one ESL tutoring to low-income adults living and working in suburban Cook and DuPage communities. For more information contact Jeanie Jadran, Program Director, at 630.217.0396.
World Relief DuPage
The World Relief Education Program DuPage/Aurora serves approximately 900 immigrants and refugees from over 60 different countries.Their ESL program provides 25 day and evening classes with an annual enrollment of over 900 students from over 60 countries. Classes are held in local churches in Wheaton, Aurora, West Chicago, and Warrenville. The program goal is to give our adult learners the language skills they need to become independent and productive members of their community.
---
ESL/Literacy Online Resources
Activities for ESL/EFL Students
Online quizzes, puzzles and bilingual quizzes to help you study English.
College of DuPage ESL Internet Sites
A collection of sites for ESL students and instructors that contains resources designed to improve grammar, vocabulary, reading, pronunciation, listening, and comprehension skills via exercises, games, puzzles, tests, and quizzes.
Duolingo
Duolingo provides written lessons and dictation for 22 different languages, with speaking practice for more advanced users.
Dave's ESL Cafe on the Web
This site provides online help for both ESL students and teachers.
English Daily
Learn conversation and business English, American idioms, TOEFL, and slang.
Literacy Information & Communication System (LINCS)
LINCS offers self-paced online courses for adult education practitioners. These courses are available for use anytime, anywhere on the LINCS Learning Portal. Courses cover many subjects including English language, science, technology, and more.
News In Levels
Various levels of news stories.
One Language.com
A great ESL site for students and teachers with ESL Reference links.
USA Learns
A free website for adults to learn English.
Using English
A large collection of ESL tools and resources for students, teachers, learners and academics.
Ventures
Online version of the textbook now used by College of Dupage ESL classes.
---
Citizenship & Immigration Resources
ProCitizen
Prepare for the U.S. Citizenship Test with over 100 videos, drills, and quizzes. Covers the civics, reading, and writing portions of the exam.
U.S. Citizenship Resource Center
Provides learners with a one-stop resource for locating citizenship preparation materials and activities.
Application Form for U.S. Naturalization (N-400)
The links for the online forms required to apply for U.S. Citizenship.
Learn About Becoming a U.S. Citizen
A federal resource detailing the steps and necessary requirements for applying for naturalization.
EL Civics for ESL Students
Lessons, workshops, and presentations suitable for ESL users designed to help prospective citizens for the Civics portion of the Citizenship test.
American Immigration Lawyers Association
AILA Immigration Lawyer Search allows you to search for a lawyer by location, languages spoken, and by type of lawyer.
US Department of Justice
Provides a list of an accredited representatives in your area who can provide legal immigration help.
DuPage Federation on Human Resources Reform
A free resource for DuPage County residents, the Welcome Center provides immigrants and/or refugee individuals and families with services, information, programs, and classes to integrate successfully into the community.
---
Digital Literacy
Digital Literacy refers to an individual's ability to effectively use technology, such as navigating the internet and developing basic computer skills.
The Bloomingdale Public Library offers computer classes for beginners. To view the class schedule and how to register visit mybpl.org/computerclass
Chicago Digital Learn
The Chicago Public Library created a free-to-use online tool for teaching digital literacy basics. The site is public and free for everyone, and only requires individuals to create an account. All courses have audio, video, and assessment components and is available in Spanish.
DigitalLiteracy.gov
A useful website that compiles and shares online instruction resources to help users develop computer and internet skills.
TechBoomers
TechBoomers is a free educational website that teaches older adults and others with basic computer skills how to use popular websites and apps.