Support For Book Groups
Register Your Book Group
Are you in a local book group with your friends, neighbors, or religious group? Let us take care of locating your group's books and save you money! Register your book group with the library, and we'll borrow multiple copies of your selected titles. When they're ready, we'll notify a designated contact person.
What We Need:
- At least one group member must have a Bloomingdale Public Library card
- Book titles
- Number of copies needed
- How often you meet
- If any of your members need large print or audiobooks
Send your selections at least six weeks before your group meets or you can give us your list for the entire year. Please be aware that some newer or popular titles may not be available to borrow. If we can't get enough copies, we'll contact you to choose an alternate title.
To register your book group, please have the designated contact person fill out the Registration and Title Selection Form. The completed form can be dropped off at the Reference Desk or emailed to mjohnsen@mybpl.org.
---
Book Discussion Kits
The library has book discussion kits that are available for your book group to check out. A kit includes multiple copies (5+) of one of the titles listed below and discussion questions (if requested). The person who checks out the kit is responsible for all the books contained in the kit.
Titles and Discussion Guides available for Book Discussion Groups
Atwood, Margaret. The Handmaid's Tale
Backman, Fredrik. A Man Called Ove
Chernow, Ron. Alexander Hamilton
Diffenbaugh, Vanessa. The Language of Flowers
Ferrante, Elena. My Brilliant Friend
Fitzgerald, F. Scott. The Great Gatsby
Gaiman, Neil. The Ocean at the End of the Lane
Golden, Arthur. Memoirs of a Geisha
Goolrick, Robert. A Reliable Wife
Haruf, Kent. Plainsong
Hosseini, Khaled. The Kite Runner
Jiles. Paulette. News of the World
Jordan, Hillary. Mudbound
Kelly, Martha Hall. Lilac Girls
Kingsolver, Barbara. The Poisonwood Bible
Kline, Christina Baker. Orphan Train
Larson, Erik. The Devil in the White City
Lee, Harper. To Kill a Mockingbird
Lee, Min Jin. Pachinko
Morgenstern, Erin. The Night Circus
Morris, Heather. The Tattooist of Auschwitz
Ng, Celeste. Everything I Never Told You
Ng, Celeste. Little Fires Everywhere
Powers, Richard. The Overstory
Semple, Maria. Where'd You Go Bernadette?
Shaffer, Mary Ann and Annie Barrows. The Guernsey Literary and Potato Peel Pie Society
Skloot, Rebecca. The Immortal Life of Henrietta Lacks
Stedman, M.L. The Light Between Oceans
Yousafzai, Malala. I Am Malala: How One Girl Stood Up for Education and Changed the World. Young Reader's Edition
Yousafzai, Malala. I Am Malala: The Girl Who Stood Up for Education and Was Shot by the Taliban
---
Discussion Guides & Book Reviews
We can help you find discussion guides and book reviews that will enrich your discussions. The following databases and web sites contain information pertaining to books and authors.
NoveList Plus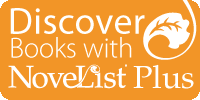 NoveList allows you to use a favorite author or title as a springboard to locate other authors and titles of interest. On NoveList you can also look up and view book series information, read the first chapter of many books, and read reviews.
BookBrowse



Reading suggestions, excerpts, guides, and much more!
ALA Book Club Central
Features book reviews, author interviews, discussion questions and more
ReadingGroupGuides.com
Book discussion guides, advice for starting and running a book group, and interviews with book groups around the country
Reading Group Choices
Recommendations and book group guides, as well as information for book group leaders
Book Movement
Lists of the best books for discussion, based on ratings from 32,000 clubs as well as book guides and other online tools to simplify club communications and activities
LitLovers
Reading guides, book reviews, and book club resources
Literary Reference Center Plus (Bloomingdale Library card required to use outside of library)
Biographies, bibliographies, and critical analyses of writers and their works
Publisher Websites
Many publishers offer reading group guides online. These sites are also helpful for choosing titles. Here are a few publishers to try:
Random House Reading Group Guides
HarperCollins Book Club
HarperCollins Reading Guides
Houghton Mifflin Reading Group Guides
Hachette Book Group Reading Book Guides
Penguin Group Reading Guides
What to Do When There's No Guide Available
This site has helpful questions from ReadingGroupGuides.com that you can use when you can't find a book discussion guide for your book club book.
Generic Book Discussion Questions
What is the significance of the title?
Why do think the author opened the book this way?
Did the cover of the book give you a good idea of what the book would be like?
Can you compare this book to any other books we have read in the group?
Do you think this book was autobiographical?
Are the male and female characters in the book written with equal depth?
How important was the setting to this book? Could it have been set anywhere else?
Would you read another book by this author?
Did you like the author's writing style?
What are the book's strengths and weaknesses?
Who was your favorite character and why? Who was you least favorite character and why?
Did you like the ending?
Would this book make a good movie? Cast the movie!