Volunteer & Donate
Volunteering at Bloomingdale Public Library
Teen Volunteer Opportunities
Teen Book Reviews - Do you love to read and review books? Then write reviews for our new Teen Book Reviews shelf on Goodreads! Each review will earn you one service hour and you can complete three reviews per month. Your reviews will be added to our Goodreads page and other social media accounts. Visit the Teen Book Reviews page to get started!
Volunteens - We are now accepting applications for the 2023-24 school year. There are limited opportunities for a regular, one hour a week, scheduled volunteer schedule. We also keep an on-call list of teens that can help out at special programs. Please find the application for both opportunities here. Applications will be reviewed as received and applicants will be contacted by the VolunTeen Coordinator. If you are not contacted within two weeks of turning in your application please call Carol Leeson at (630) 924-2744 or send an e-mail to cleeson@mybpl.org.
Local Volunteer Opportunities
Check out these local organizations for volunteer opportunities for all ages.
Item Donation Guidelines
Bloomingdale Public Library is accepting item donations inside at the Circulation Desk (donation receipts are available). Do not leave donations outside or in our lobby area. Due to limited storage space, not all donations are accepted.
WHAT WE ACCEPT
Hardcover and paperback books in good condition
Children's books
DVDs with cases
Audiobooks
CDs
Video games
NOT ACCEPTED:
We DO NOT accept items outside of our acceptable donations list - NO toys, clothing, etc. We can only accept books or AV materials as listed above.
Damaged, dirty, highlighted, or stained books
Musty material with mildew or smoke odors – try the sniff test!
Books with dust or cobwebs
Encyclopedias older than 10 years
Textbooks older than 5 years
VHS cassette tapes
Magazines
Record albums and audio cassette tapes
Donations become the absolute and unconditional property of the library and cannot be returned to the donor for any reason. Once the library takes possession of an item, the library is free to make all decisions in accordance with its established procedures with respect to the retention, storage, use, and disposition of that item.
Items of local interest should be directed to the Local History Department at (630)924-2765 or bdlh@mybpl.org.
Donating Funds
Monetary donations are welcome. It is the policy of the Library to expend monetary donations on materials, equipment, or a project acceptable to the donor. Other donations such as equipment, stocks, etc. may be accepted, but would be subject to the approval of the Library Director and the Board of Library Trustees.
Memorial Books
In memoriam of a loved one, you may donate towards a book that will be added to the library collection. The book will include a book plate acknowledging your donation and the person, and you are welcome to choose a subject or genre that they enjoyed.
If you would like to make a memorial book donation, please contact Abby Budzynski, the Adult Services Department Head, at (630) 924-2733 or abudzynski@mybpl.org.
Commemorative Brick Program
You are invited to buy a commemorative brick that will be permanently installed in the Dominic Froio Memorial Garden at the Bloomingdale Public Library!
Cost for Bricks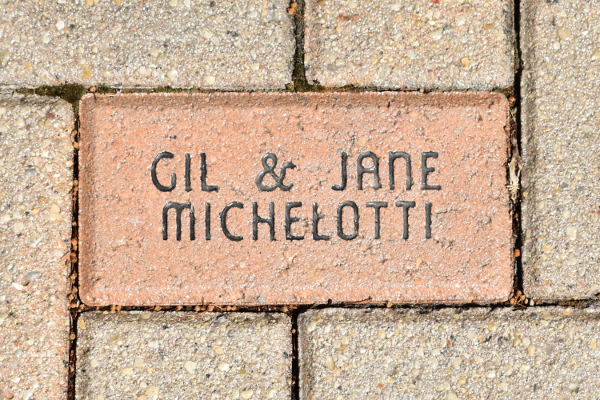 Family or group 4" x 8" - $75.00
Each brick holds up to three lines of type with thirteen characters per line.
Engraved letters are filled with a black epoxy for protection from the elements.
Please note: Placement of bricks in the Memorial Garden is determined by the Library. Special requests can not be honored.
Sponsored by The Bloomingdale Business Promotion and Cultural Development Committee
To purchase a brick, please come to the Business Office for an order form. All donations are tax deductible. Make checks payable to "Village of Bloomingdale."