Homeschool Resources
The listing of resources does not constitute an endorsement by the Bloomingdale Public Library. However, we strive to provide infomrmation that is current and reliable. If you have any questions, your librarians are always ready to help!
State Requirements, Standards, & Resources
Illinois State Board of Education— https://www.isbe.net/
Home School Legal Defense Association— Grants for homeschooling, info on how to get started, resources for curriculum, laws in each state, and much more!
STARNET— Illinois' clearinghouse for students and families navigating the special needs resources landscape—everything from information, trainings & webinars, to financial assistance and support group/networking opportunities.
Illinois H.O.U.S.E.— A statewide network of support groups for people involved in homeschooling. The website has many helpful resources, from tips for new homeschoolers, to legal cases, homeschooling styles and more!
Coalition for Responsible Home Education — A group dedicated to educating the public and advocating for child-centered, evidence-based policy and practices for families and professionals. Good source for getting started, legal guidelines and questions.
Local Resources & Groups
Schaumburg H.O.U.S.E.— A non-sectarian group of homeschoolers that supports all educational philosophies and family lifestyles. They facilitate activities, classes, cultural events, and general gatherings to help children in making friends and being part of a larger community.
Fox Valley Free Learners— A non-sectarian homeschool group that meets regularly, but does not have mandated classes.
CHAMPS— A weekly enrichment co-op with classes in art, dance, music, languages, and life skills, as well as some core subject areas.
HEART— A Christian non-denominational weekly enrichment group that accepts all families and students and is connected to the Classical Consortium and its Trivium model of education.
Curriculum
Cathy Duffy Reviews— Curriculum reviews broken down by subject with recommended items and a predominance of Christian materials, but many secular ones reviewed as well. This is a great starting point.
Homeschool.Com— Has lots of solid content, including curriculum reviews and lists of the top resources by year. https://www.homeschool.com/top-100-homeschool-resources-2020
Johnsburg Public Library Homeschool Resource Center— The Johnsburg Public Library offers a large variety of curriculum materials, science equipment, homeschool supply catalogs, and more. Anyone can use their materials; anyone with a valid Illinois public library card may check out items. The site has great lists and information as well.
WorldBook— A great resource with a listing of the typical course of study for each grade level.
Homeschool Buyers' Co-op— Free resources, discounts, templates and trainings, and curricula is sorted both by grade level and subject area.
Carolina Biological— Science supply company providing everything from soil testing kits and Ph strips, to fetal pigs.
American Science & Surplus— Tons of science equipment at steeply discounted prices. Local business with brick and mortar stores in Chicago and Geneva.
Project Gutenberg— 60,000+ free eBooks including many classics. Helpful for saving on texts, accessing when you don't have the book on hand, or quickly finding passages and quotes in searchable text formats.
Oak Meadow— Print-based curriculum can be used independently by homeschoolers, or through enrollment in our teacher-supported distance learning school and aligns with rigorous academic standards, and can be customized to meet students' interests, skills, and learning styles.
Moving Beyond the Page— Interdisciplinary project-based curriculum based on state and national standards.
Sonlight— Well-respected Christian Pre-K-12 curriculum with customizable options to buy as bundles or individual subjects/items.
Extracurriculars
GIFT— A Christian identifying group that welcomes all families of any belief (or none) for classes in fine art.
West Suburban Homeschool Band— Follows the model of a community band and includes all wind instruments, woodwinds and brass, as well as a full percussion section. There are no stringed instruments. Over 200 families participate.
Bloomingdale Park District— Various athletic classes and activities.
Online Education
Time4Learning— Consistently rated one of the most thorough and best online education platforms by multiple homeschool resource sites. Includes a grade-by-grade curriculum overview and affordable pricing.
K12— Full free online curriculum for grades K-12.
CK-12 Academy— A comprehensive free online curriculum for grades k-12 with a strong math and science focus, including simulations, webinars, online textbooks, and standards alignment.
ABC Mouse— Full online curriculum for early learners aged 2-8, covering reading, colors, math, science.
Khan Academy— Nonprofit award winning free full curriculum for K-12, including AP classes, computing, life skills, and more.
Reading Eggs (readingeggs.com)— Looking for a way to teach your young children to read? On this homeschooling website, kids progress through a series of fun lessons on their road to reading and accumulate online rewards along the way.
Starfall— Starfall activities are research-based and align with Individual and Common Core State Standards in English language arts and mathematics with an emphasis on phonemic awareness, systematic sequential phonics, and common sight words . PreK through Grade 3 students can play games, watch short videos on letters and sounds, and flip through "books" of stories.
Special Resources from Bloomingdale Public Library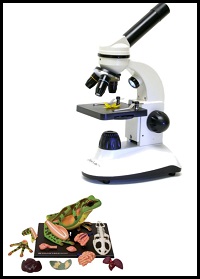 Science Kits— Spark or encourage an interest in science with Science Kits! Science Kits are plastic boxes containing science materials and objects that can be checked out by anyone. Each item is high quality and supported by materials in our non-fiction section as well as DVDs, with more supplementary activities and suggestions coming soon to each kit!
Music Kits— Children can now check out musical instruments and foster a love for music and creativity. It's a great way for children to explore and experience music through many different approaches and get their hands on a variety of fun instruments!
Databases— (Bloomingdale cardholders only—check your home library's database list for their offerings!)
Brainfuse HelpNow offers live online homework help and writing assistance. Free online tutoring is available from 3:00 p.m. - 10:00 p.m.
Learning Express Library offers skill improvement in reading, vocabulary, spelling, science, math, and additional subjects with tutorials, practice sets, and more. Elementary and middle school skills are under the Grades 4-8 Educator Resources. High school skills are under the High School Students category.
Britannica Kids Encyclopedia Britannica plus three other complete encyclopedias, downloadable video and audio clips, and access to hundreds of periodicals and journals.
Pronunciator Learn over 80 languages using Pronunciator, which includes courses, live conversation groups, and more. English language learners can learn using 50 non-English languages. Also includes downloadable phrasebooks for travel. Download the app for mobile use.
And so many more!
Interlibrary Loan—Want a book that you can't find in our library? We've partnered with over 100 other libraries to get materials quickly and easily. If they don't have the item you need, we will gladly borrow it from outside our library system.
Readers' Advisory/Book Selection— The most fun part of a librarian's job— our selectors and staff will work with you to find reading material at the right stage for all of your learners. Fiction, non-fiction, curriculum support…you can always email bdys@mybpl.org to have your request routed to the staff member most knowledgeable in that area as well. Our staff is happy to pull a selection of books on a particular topic/theme and have them ready for you to look over when you visit the library.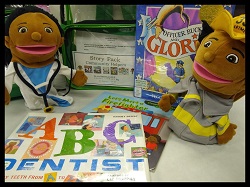 Donna Beth Froio Foreign Language and Cultural Collection— Books, book/audio kits, CDs, and DVDs on the study of foreign languages, folklore, culture, recipes, music, poetry, literature, and history for students in preschool through 8th grade. An excellent multicultural resource collection in Arabic, Spanish, Indian languages, French, German, Italian, Chinese, Polish, Russian, Japanese, and more!
Story Packs—Story packs are backpacks filled with books, puzzles, puppets, music, and DVDs focusing on the following themes: alphabet, colors, shapes, bedtime, birds, community helpers, dinosaurs, fairy tales, feelings, gardens, new siblings, puppies and kittens, school, special needs, and toilet training. Designed for the preschool and kindergarten crowd.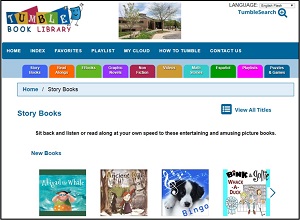 Museum Passes— Use the smartest card - your library card - to receive admission or a special discount at participating Chicago area cultural destinations! Learn more at mybpl.org/museumpass.
eBooks & Streaming Services— The library offers animated picture books on Tumblebooks, eBooks and audiobooks on Digital Library of Illinois and eReadIllinois, and streaming music and video on Hoopla and Kanopy.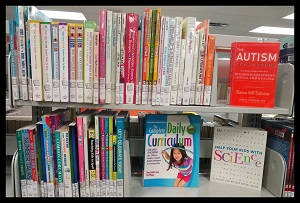 Parent-Teacher Collection—Books and kits that provide parents and teachers with information on child development, classroom support materials, and parenting issues.
Meeting Rooms— Residents with a Bloomingdale Public Library card may use the meeting rooms for educational and non-profit purposes. See the link for the full guidelines.