Job Help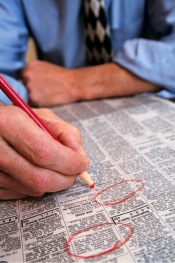 Online Live Job Coaching, Interview Help, and Resume Assistance
Brainfuse JobNow offers live online help with resumes, interviews, and job searches. Live online assistance is available from 3:00 p.m. - 10:00 p.m.
Brainfuse JobNow also offers the following services, with many available 24/7:
Resume Lab: Upload your resume, and you will receive an expert analysis of your resume within 24 hours.
Resume templates and online resources
Interview tips and online resources
Career assessment and job resources links
Adult Learning Center: Build academic skills with live tutoring, test preparation, and an online writing lab.
You can log in to Brainfuse JobNow from home using your Bloomingdale library card number and PIN. Este servicio está disponible en español.
---
Job Help Databases
Use our databases to gain an advantage over the job search competition. Make targeted lists of potential employers. Send in your resume online for a review and critique. Receive live job coaching. Research companies to improve your cover letter or ace an interview. Improve your skills. Prepare yourself to succeed in the job hunt!
Our databases are available online to Bloomingdale Public Library cardholders. Log in using your Bloomingdale Library card number and PIN.
Brainfuse JobNow
Get live job coaching, interview, and resume help, upload your resume and receive expert feedback, and more. Live online assistance is available from 3:00 p.m. - 10:00 p.m. Este servicio está disponible en español.
Data Axle Reference Solutions (formerly ReferenceUSA)
Contains detailed information on millions of U.S. businesses and residents. Data can be sorted by business size, geography, and type of business. Custom lists can be created, printed, and downloaded.
Gale Courses
Explore your interests with Gale Courses. Courses support business professionals, teachers, health care workers, aspiring writers, artists, and musicians, genealogists, as well as people interested in health, wellness, technical skills, and lifelong learning. Six-week long courses are taught by college instructors and experts in the field, ensuring a high-quality, high-impact educational experience. Certificates of completion are offered when you successfully complete a class.
LinkedIn Learning (formerly lynda.com)
Thousands of high quality video tutorials taught by respected authorities in their fields. Topics include graphic and web design, business and career skills, photography, audio and video production, software, and job search tools. Courses are available for all learners of all levels.
Learning Express Library
Online test preparation materials and interactive practice exams based upon official tests such as the ACT, SAT, GMAT, and more. Also includes online computer tutorials, tests for various professions, U.S. citizenship preparation, and much more.
---
Library Job Help Services
---
Job Search Websites
CareerBuilder
Provides listings from over 200 newspapers across the country.
Glassdoor
Glassdoor is a growing database of 6 million company reviews, CEO approval ratings, salary reports, interview reviews and questions, benefits reviews, office photos, and more.
Indeed
Compiles job listings from a variety of sources, including Monster, Craigslist, and HotJobs.
Monster
Lists local and nationwide job ads.
Recruit.net
Allows you to search jobs worldwide using multilingual job search engines.
USA Jobs
Official job site for the United States Federal government. You can search nationally or restrict your search to local openings.
Illinois Job Link
A site sponsored by the Illinois Department of Employment Security that features job opportunities in Illinois. Statewide and nationwide job banks are included.
Work 4 Illinois
State of Illinois web-based electronic hiring system. The State provides job opportunities in a wide range of occupations and titles. This website will guide you through the state employment process for the departments under the jurisdiction of the Governor.
ZipRecruiter
A career source site with a 1-click apply, which makes it easy to find and apply for jobs in the area of your choice.
---
Career Exploration
CareerOneStop
CareerOneStop is a U.S. Department of Labor-sponsored Web site that offers career resources and workforce information to job seekers, students, businesses, and workforce professionals to foster talent development in a global economy.
Learn How to Become
LearnHowToBecome.org is a comprehensive career resource with a mission to help students and aspiring professionals understand what it takes to land their perfect career. Explore career salaries, steps on pursuing a career, schools, and more.
My Next Move
My Next Move is an interactive tool for job seekers and students to learn more about their career options. My Next Move has tasks, skills, salary information, and more for over 900 different careers.
O'NET
The O*NET database includes information on skills, abilities, knowledges, work activities, and interests associated with occupations. This information can be used to facilitate career exploration, vocational counseling, and a variety of human resources functions, such as developing job orders and position descriptions and aligning training with current workplace needs.
Information in O*NET is available for over 950 occupations. Each occupational title and code is based on the most current version (1999) of the Standard Occupational Classification system.
Online MBA Review
Provides educational information and resources on MBA programs.
Career Guide to Industries
Information on careers from the Bureau of Labor Statistics.
Occupational Outlook Handbook
This is the online version of the classic reference book. This book will tell you if the demand for an occupation is predicted to grow, or if demand is waning.
University HQ - How to Become Guide
Free educational resource helping students determine their best career path options.
---
Employment Guides
Job Hunters Bible
A site organized by Richard Bolles, author of "What Color Is Your Parachute?" Contains useful information including interactive tests, career and salary information, and job sites.
JobStar Central
Bay Area Library & Information System (BALIS), a regional library agency serving public libraries in Alameda, Contra Costa and San Francisco Counties, is the organization responsible for JobStar. Although this site originates in California, there is information that applies nationwide.
---
Local Services
workNet DuPage Career Center
2525 Cabot Drive, Suite 302
Lisle, IL 60532
Tel: 630-955-2030
TTY: 630-955-2098
Fax: 630-955-2059
Opened in January 2007, the workNet DuPage Career Center was previously located in Lombard and referred to as the Illinois Employment & Training Center (IETC.) Services such as scholarships for job training programs, job search workshops, and Job Club are now provided through this location on Friday mornings from 8:30 a.m. - Noon.
People's Resource Center
201 S. Naperville Road
Wheaton, IL 60187
Tel: 630-682-5402 x333
PRC's Job Search Assistance helps low income residents of DuPage County secure and maintain employment. To make the process easier, the Job Search Assistance Program provides clients with one-on-one mentoring at every step along the way.
College of DuPage Career Services Center
Student Services Center (SSC), Room 2225
425 Fawell Boulevard
Glen Ellyn, IL 60137
Tel: 630-942-2230
Career Services at College of DuPage offers a variety of resources to help individuals with their short- and long-term career goals and help businesses with staffing needs. They offer the following services to students, alumni, and community/district residents:
- Career Advising/Coaching Career Specialists (call to book an appointment with a specialist)
- Online Job Matching System
- On-Campus Recruitment/Interviewing
- PC Lab
Hanover Township Employment Support Center
Hanover Township Community Center
7431 Astor Avenue
Hanover Park, IL 60133
Tel: 630-540-9085 ext. 237
Email: Employmentsupport@Hanover-township.com
Hours: Monday 9:00 a.m.-1:00 p.m., Thursday 9:00 a.m.-1:00 p.m. (closed holidays)
RPP Enterprises Employment Support Center staff can assist in your job search by providing career information, answering employment questions, assisting with resumes, and helping to research job opportunities.
Half hour to one hour appointments are available to provide assistance with networking, job campaigns, and interview skills, as well as one hour reservations for computers. Call, email, or stop by to make an appointment.
Illinois Department of Employment Security
Illinois workforce services including job placement and referrals, unemployment insurance, employment and training programs, career and labor market information, payroll tax filing, and more.
---
Job Clubs
Hoffman Estates
St. Hubert's Job & Networking Ministry
729 Grand Canyon Street
Hoffman Estates, IL
847-885-7700
Meetings are held the 2nd and 4th Mondays of each month from 7 pm to 9:15 pm at St. Hubert Parish Ministry Center, 729 Grand Canyon Street, Hoffman Estates, IL. Bring several copies of your resume with you.
Naperville
Community Career Center
1815 W. Diehl Road
Suite 100
Naperville, IL 60563
(630) 961-5665
Wednesdays from 9:30 a.m - 11:15 a.m. and 11:30 a.m. - 1:00 p.m.